Leonard, Coleman and Blunt (LCB) LIVE at Grand Opening of Flicks4Change D.C. 2018 in Arlington VA and Washington DC, Respectively – Nov 8 and Nov 10
Mark your calendars for an evening of magic moments and M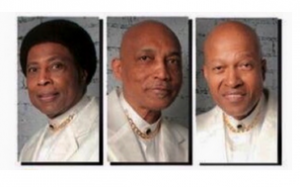 otown memories as LCB; Glenn Leonard, former lead tenor, "The Temptations," (1975-1983), Joe Coleman, former lead singer, "The Platters," (1982-2004), and Joe Blunt, former lead singer, "The Drifters,"(1975-1985), bring their Motown hits and showmanship to the stage at the opening ceremony of Flicks4Change D.C 2018 on Thursday, November 8 at Clarendon Ballroom in Arlington VA (6:30 pm) and Saturday, November 10 at Halcyon Washington DC (4pm).
LCB will perform timeless hits which showcase their tight harmonies and exquisite craft as they join forces with Flicks4Change to promote and support great young filmmakers striving to make a difference through their art and experience.
This is a fantastic opportunity to experience the legendary LCB, whose music truly composed the soundtracks of our lives, as they encourage and pave the way forward for aspiring and upcoming young filmmakers looking to create an indelible and lasting impression on their audience through their art.
Both evenings will open with a selection of hit songs from the Platters; the best beach music in history from the Drifters and the Marvelous Motown songs of the tempting Temptations followed by meaningful short films aimed at social change, grassroots activism, and philanthropy through community upliftment. Get ready for classic songs by LCB and classic movies by upcoming filmmakers all in ONE EVENING.
Get your tickets at https://www.eventbrite.com/e/flicks4change-dc-2018-tickets-49372309908?fbclid=IwAR3IkqIkL27QLvyL3rKXO8omNF8fBlJarHwCV5ljbhn5DHO9UGJp3UFbu0w