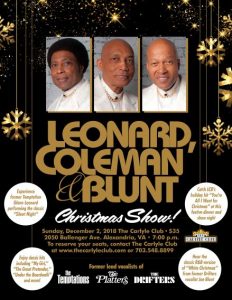 Its Christmas time again!  LCB, featuring Leonard, Coleman, and Blunt, the former lead singers of The Temptations, The Platters and The Drifters is headlining the Annual "LCB Christmas Show" at The Carlyle Club in Alexandria VA, on Sunday, December 2nd at 7 pm. They will be performing their original Christmas single, "You're All I Want For Christmas, written and produced by group member Joe Coleman.
Bring your family and all your friends for a great night of music and fun!  Birthdays, Anniversaries, girls/guys night out, friends and family in town, need a night out with someone special? Celebrate the holiday season with great Christmas music and all the hits you know and love from The Temptations, The Platters and The Drifters including, "Silent Night", "White Christmas", "This Christmas", "Give Love On Christmas Day", "My Girl", "Only You", "Under the Boardwalk", "Smoke Gets In Your Eyes".
Enjoy Holiday classics and classic hits with LCB as they bring their rich blend of Christmas hits and showmanship to the stage… wowing audiences both nationally and internationally with their tight harmonies and exquisite craft.
Reserve your table now at https://www.instantseats.com/index.cfm?fuseaction=home.event&eventid=ECF7A5C8-E281-F7F8-CC947EC0E55C2441&k=
Doors open at 5 PM for dinner. Convenient parking right under the building!